The Dog Show

May 20, 2021

Ohio State University Libraries presents The Dog Show: Two Centuries of Canine Cartoons.
---
Grimmy Art Class!

March 29, 2020

Watch how to draw Grimmy
---
Grimmy Art Class!

March 26, 2020

Watch how to draw Scared Atila
---
Grimmy Art Class!

March 25, 2020

Watch how to draw Ham
---
Grimmy Art Class!

March 23, 2020

Watch how to draw Willy the Killer Whale
---
Grimmy Art Class!

March 22, 2020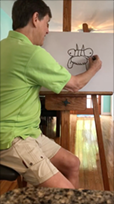 Watch how to draw Ralph
---
Grimmy Art Class!

March 21, 2020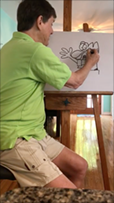 Drawing Mother Goose, "wash your hands."
---
Grimmy Art Class!

March 20, 2020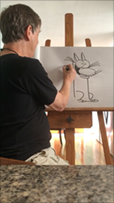 Watch how to draw Attila
---
Grimmy Art Class!

March 19, 2020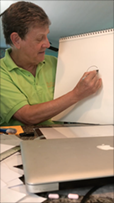 I hope you're all doing well! We're all in this together so let's draw!!.
---
Best Newspaper Strip!

June 2, 2018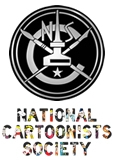 On June 2nd, 2018 the National Cartoonists Society presented Mike with the "Newspaper Comic Strip" award for excellence.
---
Celebrating 50 Years in Dayton

April 1, 2018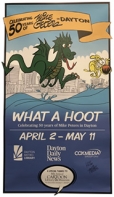 Dayton is celebrating 50 years of Mike Peters cartoons at the Dayton Daily News. The retrospective begins April 2nd at the new downtown Dayton Library and continues until May 15th. It will include editorials and Mother Goose & Grimm strips.
---
First Amendment forum at Aspen Institute

July 7, 2017

'Dinner & a Movie' fundraiser in Aspen, Colorado
On July 7th, 2017 FIRE presented a special screening of "Can We Take a Joke?" at the Aspen Meadows Resort. There was a reception dinner that took place immediately after the screening that included a discussion and Q&A with FIRE President and CEO Greg Lukianoff; FIRE's Chief Research Officer and Director of the Aspen Center for Human Development, Pamela Paresky; comedian Karith Foster (featured in "Can We Take a Joke?); and award-winning "Mother Goose & Grimm" cartoonist Mike Peters.
---
What a Hoot! A Mike Peters Retrospective

November 2, 2016

The Billy Ireland Cartoon Library & Museum Announces a New Exhibition:
"What a Hoot! A Mike Peters Retrospective"
November 5, 2016 - March 12, 2017
Click HERE for more information and schedule of events.
---
2016 Republican National Convention

July 25, 2016

Photo of Mike Peters with Joe Scarborough and Mika Brzezinsk at the 2016 Republican National Convention in Cleveland.
Click HERE to watch the video of Mike Peters showing off political cartoons at the convention.
---
Concepcion Picciotto

February 3, 2016
Conception Picciotto occupied a peace vigil encampment behind the White House for more than 30 years. Concidered the longest political protest in American history. Mike would bring her a pizza every time he visited D.C. You will be missed.
Read NY Times Obituary HERE
---
TAKING A CLOSER LOOK A CONVERSATION WITH MIKE PETERS

January 10, 2015

In the following interview, Dayton Daily News Pulitzer Prize-winning editorial cartoonist Mike Peters (also author of the long-running comic strip, 'Mother Goose and Grimm') shares his thoughts about the tragic massacre at the French satirical newspaper Charlie Hebdo and the power of political satire. - Connie Post
Full interview HERE
---
Mike Peters attends the 100th Anniversary of King Features Syndicate at Ohio State University

January 4, 2015

See image HERE
---
Mike's interview with Tony Auth

September 25, 2014

Watch Mike interview the late Pulitzer Prize winning editorial cartoonist Tony Auth on the World of Cartooning PART ONE | PART TWO.
---
New article in St. Louis Magazine: The Man Behind Mother Goose and Grimm

December 10, 2012

Mike Peters extracts humor from catastrophe, political angst, private fears, and a goose's pet dog... READ HERE
---
Award winning cartoonists will headline the first annual Guardian Ball at the Boise Centre, benefitting severely wounded, injured and ill veterans in the Wyakin Warrior Foundation.

October 22, 2012

A black tie gala will be held on December 1, 2012 to benefit severely wounded and injured veterans attending classes at Boise State University and College of Western Idaho as members of the Wyakin Warrior Foundation. The event will feature remarks by Governor Otter, introduction of the wounded and injured veterans in the Wyakin Warrior Foundation, full dinner, live music and a live auction. Cartoonists will provide original art, name placement in nationally syndicated cartoons, caricatures, and a multimedia presentation. Tables with the Wyakin Warriors and cartoonists are available. Tickets are on sale now (www.wyakin.org).

Link to official release HERE
---
Two articles from the Washington University Student Life Newspaper

June 13, 2012

Father of 'Mother Goose & Grimm' not always the best student, but a funny one HERE
Slideshow of Mike Peters' Student Life comics, 1962-65 HERE
---
New Interviews

June 12, 2012

INTERVIEWED: Brendan Burford Interviews Mike Peters plus a video on KTVN News
---
Washington University Commencement Speech

May 17, 2012

Mike Peters, addressed the graduates at Washington University in St. Louis' Commencement ceremony on May 18, 2012. You can watch the video on YouTube, http://www.youtube.com/watch?v=IRRcrYn8vlc
---
Thomas Nast /Overseas Press Club Award winner is Mike Peters!

May 10, 2011

Congratulations to Mike for winning the Overseas Press Club/Thomas Nast Award for his editorial body of work in 2010. Read an article in the Dayton Daily News HERE and also see his page on the OPC website HERE.
---
The 2011 National Headliner Awards

March 27, 2011

Mike Peters has been awarded the National Headliner Award for Editorial Cartooning for his body of work during 2010. Congratulations! Go here for more winners.
---
American Red Cross for the Japan Earthquake and Pacific Tsunami

March 11, 2011

Japan needs our help. Go here to donate: American Red Cross
---
New website!

January 1, 2011

Welcome to the new website. We will be continuing to tweak the new design so there may be bumps here and there but they will be fixed. We have tried to add new features and are going to expand the archives in the coming weeks. Check back here often for News and Updates. Happy New Year!
---
New Interviews

November 30, 1999

Link to 2 interviews Mike recently did in Las Vegas. (One Video.) HERE
---
New article in St. Louis Magazine

November 30, 1999

Mike Peters: The Man Behind Mother Goose and Grimm
Mike Peters extracts humor from catastrophe, political angst, private fears, and a goose's pet dog... HERE
---
| | |
| --- | --- |
| | November 30, 1999 |
---
Dayton Daily News interviews Mike about the Charlie Hebdo Massacre

November 30, 1999

Read the interview HERE
---
Mike is interviewed about the Charlie Hebdo Massacre

November 30, 1999
Read the interview HERE